Overview

Overpronation is when there is excessive rotation beyond the optimum level, more specifically involving more than 15 degrees of difference in angle between the plane of the foot and the plane of the leg. It is often linked with flat feet, fallen arches and collapsed arches. When the arches are high, there is not usually sufficient pronation. This is called underpronation or supination.


Causes

There has been some speculation as to whether arch height has an effect on pronation. After conducting a study at the Rose-Hulman Institute of Technology, Maggie Boozer suggests that people with higher arches tend to pronate to a greater degree. However, the generally accepted view by professionals is that the most pronation is present in those with lower arch heights. To complicate matters, one study done by Hylton Menz at the University of Western Sydney-Macarthur suggests that the methods for measuring arch height and determining whether someone is ?flat-footed? or ?high-arched? are unreliable. He says, ?For this reason, studies investigating the relationship between static arch height motion of the rearfoot have consistently found that such a classification system is a poor predictor of dynamic rearfoot function.

Symptoms

Overpronation can be a contributing factor in other lower extremity disorders, such as foot pain, plantar fasciitis, ankle injuries, medial tibial stress syndrome (shin splints), periostitis, stress fractures and myofascial trigger points. Overpronation increases the degree of internal tibial rotation, thereby contributing to various knee disorders such as meniscal injury or ligament sprains. The effects of the postural deviation are exaggerated in athletes due to the increase in foot strikes while running and the greater impact load experienced. When running, three to four times the body weight is experienced with each foot strike.2 If overpronation exists, the shock force is not adequately absorbed by the foot and is transmitted further up the kinetic chain.

Diagnosis

So, how can you tell if you have overpronation, or abnormal motion in your feet, and what plantar fasciitis treatment will work to correct it? Look at your feet. While standing, do you clearly see the arch on the inside of your foot? If not, and if the innermost part of your sole touches the floor, then your feet are overpronated. Look at your (running/walking) shoes. If your shoes are more worn on the inside of the sole in particular, then pronation may be a problem for you. Use the wet foot test. Wet your feet and walk along a section of pavement, then look at the footprints you leave behind. A normal foot will leave a print of the heel connected to the forefoot by a strip approximately half the width of the foot on the outside of the sole. If you?re feet are pronated there may be little distinction between the rear and forefoot.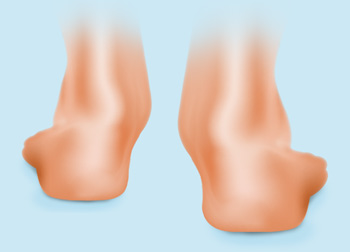 Non Surgical Treatment

The way a foot orthotic works is by altering the weight-bearing surface of the foot. The simulated foot improvement is only possible when standing still with full weight applied. Orthotics are of little help through most of the actual walking cycle. observationPatients may experience some symptom relief, but the orthotic cannot correct the internal osseous misalignment. Over-the-counter foot orthotics are usually of little help and wear out quickly. Custom-made foot orthotics, obtained through your doctor's office, are generally expensive. Though they last longer and have less chance of ill-effects than OTC brands, they still need to be replaced often. Over a lifetime, an individual can spend several thousands of dollars in total costs associated with orthotics and see little or no results. This is because orthotics only work when you are wearing them and do not treat the cause of the problem. In many cases, the external pressure points created by orthotics can cause more problems than solutions. Blisters, sore feet, sore joints and many other long-term complications can arise as a consequence of wearing orthotics.

Surgical Treatment

HyProCure implant. A stent is placed into a naturally occurring space between the ankle bone and the heel bone/midfoot bone. The stent realigns the surfaces of the bones, allowing normal joint function. Generally tolerated in both pediatric and adult patients, with or without adjunct soft tissue procedures. Reported removal rates, published in scientific journals vary from 1%-6%.